Quick overview about the Carmel Art Festival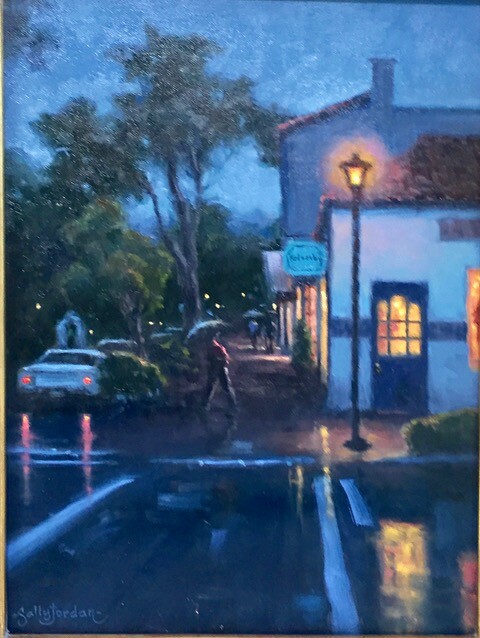 2022 Poster: "Twilight Showers" by Sally Jordan, 2019 "People's Choice Award".

We will celebrate the 27th annual Carmel Art Festival on May 13-15, 2022 skipping the 2020 & 2021 seasons due to the COVID-19 pandemic. This plein air event is a non-profit public benefit community event held to educate and inspire people of all ages about the visual arts.

For the past few years, we have donated funds to the Youth Arts Collective

which over its two decades on the Monterey Peninsula has provided studio and exhibiton opportunities to over 800 local youths. Our donation goes towards gallery space, supplies, personal and long term mentoring, art and life skills instruction and many other benefits supplied by YAC.

Many galleries in Carmel-by-the-Sea schedule their own art shows, receptions, painting and sculpture demonstrations to coincide with the Carmel Art Festival.

Sculpture-In-The-Park: Galleries in Carmel-by-the-Sea are also given the opportunity to exhibit sculptures in Devendorf Park to be enjoyed by festival attendees.

Online Viewing:Although we have posted all paintings on this website in recent years, we have eliminated online bidding. All paintings will be in a "Buy Now" status.
---
Artists who want to enter the Carmel Art Festival:

For 2022, 2020 Juried artists will automatically be entered in the 2022 event.
NO NEW APPLICATIONS WILL BE ACCEPTED FOR 2022.
It is the responsibility of the juried artists to check this website for updates.
Artists, to get on our email list, please sign up by clicking icon below.
---



Carmel-by-the-Sea Individual Gallery Events:


Carmel Art Galleries: Please email us information about your event that coincide with the dates of the Carmel Art Festival, we will also include your event in our PROGRAM. Send this information to us by mid-APRIL in time to be included.
Thank you.

---

Email Mailing list:
If you would like to get regular notices from us,
please sign up below!!!